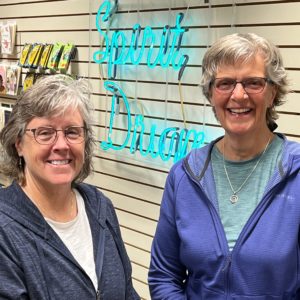 Dear friends, we have some wonderful news to share with all of you…
When we opened our doors in 1994, we wanted Spirit Dreams to be a place of spiritual growth and healing. Nearly thirty years later, Spirit Dreams remains true to that vision.
We've seen so much growth and change over the years—and have had so many blessings.
And now we are delighted to announce another blessing: On July 1st, our longtime employee Keeley Geary and her husband T.M. Camp will become the new owners of Spirit Dreams.
We couldn't be happier to know that Spirit Dreams and everything it stands for will go on, guided by very good (and capable) hands. We love them both and we know you will too.
"But what about Jaye and Jackie?"
Well, we're not going away. We'll both be here through the end of June. Then, Jackie will stay on part-time to help Keeley and T.M. with the transition. And Jaye will start her long-earned and heartily deserved retirement in July. She'll pop in from time to time and plans to continue her volunteer work with Eastown and Uptown.
We are so grateful to all of you—our customers, our friends, our family. Since 1994 we have had the amazing pleasure of growing Spirit Dreams.
Spirit Dreams began because of you… and Spirit Dreams will go on because of you.
With all our love and appreciation for your support over the years,
Jaye & Jackie